For work reasons, I have purchased and used many different types of squat racks. Although they are all squat racks, the performances of various squat racks are far from each other in terms of functions, features and user experience. Taking the Smith frame, frame squat frame, half-frame squat frame, horizontal squat frame and split simple squat frame as examples, the advantages, disadvantages and applicable scenarios of these five different types of squat frames are discussed below. brief introduction.

        Disadvantages: takes up a lot of space; the trajectory of lifting and falling is a 100% fixed line, which affects the exercise effect; the barbell cannot be used alone, nor can other barbells be used. Applicable people and applicable scenarios: A must-have for large fitness venues, it is more suitable for beginners and intermediate users to perform squat, deadlift, and bench press training.
        Disadvantages: It takes up a lot of space; it does not have the function of posture correction, and beginners should pay attention to adopting the correct posture. Applicable people and applicable scenarios: It is suitable for large fitness venues and families with large indoor space. It is suitable for beginners, intermediate and advanced fitness people to perform various forms of strength training. Personally strongly recommend.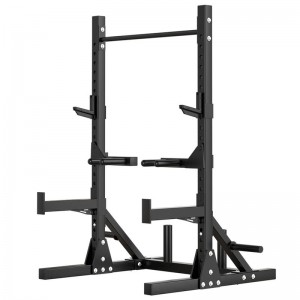 ---
Post time: Sep-24-2022